BEYOND BATTING AVERAGE:



An Inside Look at Baseball Analytics with The New York Yankees
Thursday, June 15th | 2:00 PM - 3:00 PM ET
From Stats to Swings.
Are you a baseball fan who wants to know how the best teams win? Are you a data-driven professional seeking insights from industry experts? Join our upcoming webinar featuring Michael Fishman, the Assistant GM and Head of Analytics for the New York Yankees, for this unique opportunity to explore the extensive applications of data and analytics in baseball and beyond!
In this exclusive webinar, you'll get an inside look at how the New York Yankees use data and analytics to make crucial decisions both on and off the field. From player evaluation to game strategy, you'll discover the secrets of how one of the most successful teams in baseball history leverages analytics to gain a competitive edge.
You'll also learn how you can apply the same principles to your own team or business, no matter what industry you're in. Save your spot today to get the opportunity to ask Michael Fishman your burning questions and get personalized insights into the world of baseball analytics.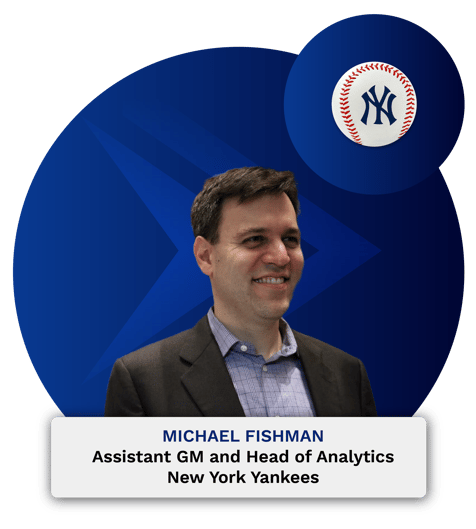 EXPLORE BASEBALL
ANALYTICS
Gain an understanding of how analytics has changed the game of baseball.

LEARN HOW THE YANKEES USE ANALYTICS
Learn how the Yankees use analytics, including their methods for player evaluation and in-game decision-making.

MAKE BETTER DECISIONS
FROM DATA
Don't take a shot in the dark. Learn how analytics can help your team to win.